Our Forsec service opticians on site will advise you individually and in detail about the perfect screen glasses for your requirements. A simple ordering procedure and efficient procurement processes ensure short delivery times.

Forsec's unified pricing structure allows you to easily plan and perfectly control your budget as well as a straight forward internal process in your ordering system.Talk to us!

Consulting, individualization and implementation at the local ForSec service partner

Individual screen glasses available in 10 to 15 working days

Anatomical fitting, vision control and instruction in the handling and care of your VDU spectacles at the ForSec service partner

Unbureaucratic: billing directly with the employer
Glasses for distances from 40 cm to 6 m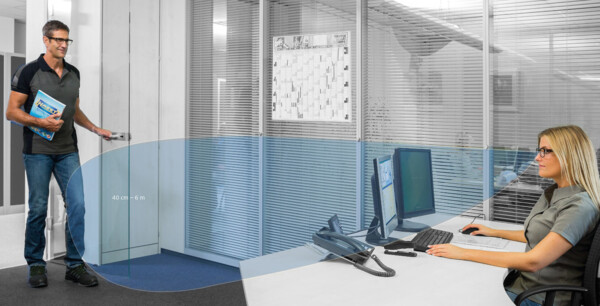 Ideal VDU screen glass for permanent use in a room, as the viewing distance of up to 6 metres is also the perfect solution for meetings, customer traffic, presentations or the walk to the printer/colleague. Premium freeform glass design, optimized for maximum wide intermediate and close-up ranges with excellentoptical properties for perfect visual enjoyment..
Glasses for distances from 40 cm to 3 m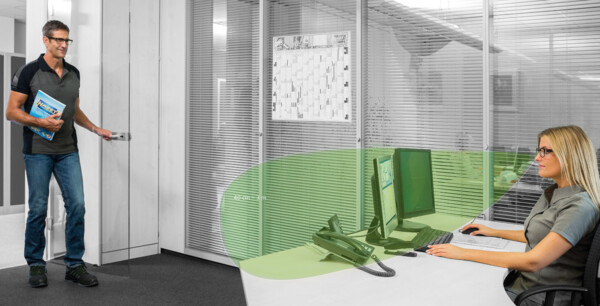 For extended desk distances

Ideal for all desk activities. Calendars, colleagues and other objects within a radius of 3 meters can be viewed sharp and relaxed. For orientation in a room, the glasses should be exchanged for the privately used ones. Premium freeform glass design, optimized for maximum wide intermediate and close-up ranges with excellent optical properties for perfect visual enjoyment.
Glasses for distances from 40 cm to 1 m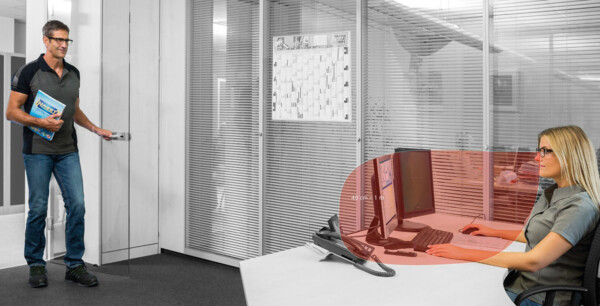 Ideal for working on multiple screens up to 1 meter viewing distance. Perfect for static activities.
High-quality free-form glass design, optimized for maximum width in the intermediate and close-up range with excellent optical properties for perfect visual enjoyment.
Single-pane safety glass for up to approx. 40 cm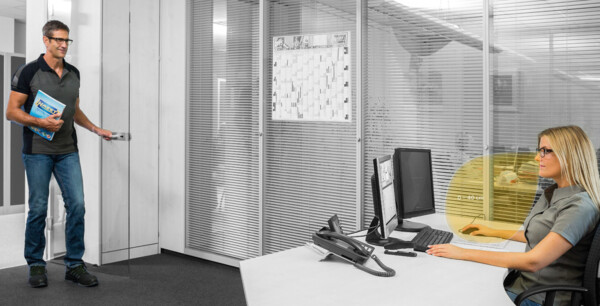 Exclusively for the treatment of young presbyopers/additional needs < 1.00 dpt
The human body changes during the course of one's life. In the mid-40s, near vision is limited and requires support for demanding visual tasks with a visual aid. Single-vision lenses offer a good solution for the beginning presbyopia.
SURFACE TREATMENT FOR SCREEN GLASSES

multi coated with anti - reflection and hard coat
If you look through a window pane, you will see your reflection. In addition, disturbing reflections occur on every lens surface, which reduce light transmission and your visual performance. The anti - reflection coat of ForSec provides a remedy: it lets 99% of the light through the glass and considerably increases the quality of vision. Our unique BlueCoat* surface coating protects the eye from short-wave light components so called UV ray - e.g. from mobile phones, monitors, laptops or lamps. This allows for completely relaxed vision, improved visual contrast and thus significantly higher performance. This surface treatment is especially recommended for screen glass.
* Surface treatment BlueCoat and Trivex with extra charge.
Since the human eye is not optimally designed to look directly into a light source such as a monitor, many people suffer from light sensitivity at their computer workstations. These are e.g. migraine patients or users with less than ideal binocular vision. Various drugs also cause light sensitivity as a side effect. ForSec offers tinted lenses for optimal visual comfort at the workplace.
Every scratched lens reduces visual performance. Uncoated plastic lenses scratch already when cleaned with a handkerchief. ForSec therefore manufactures all lenses with a perfect hard coating for long-lasting visual enjoyment.
With our easy-to-clean coating, we finish lenses and frames in such a way that dirt particles can only adhere with difficulty. The surface is made particularly smooth with nanotechnology, so that you can clean and maintain your glasses very easily. This surface treatment increases the effect of the scratch protection layer, as mechanical loads slip off the surface and do not penetrate deeply into the pane.
ENERGIZE YOUR EYES - ForSec VDU shows

More than half of the employees in Europe predominantly work with a PC. About 2/3 of them have ametropia and needs glases.
In most European countries, employers therefore have to provide special screen glasses for workers with a screen job. normal reading glasses and progressive lenses reach their performance limits when working on the PC and cause eye strain.
For perfect office vision we design ForSec VDU spectacles.
Enjoy and energize your eyes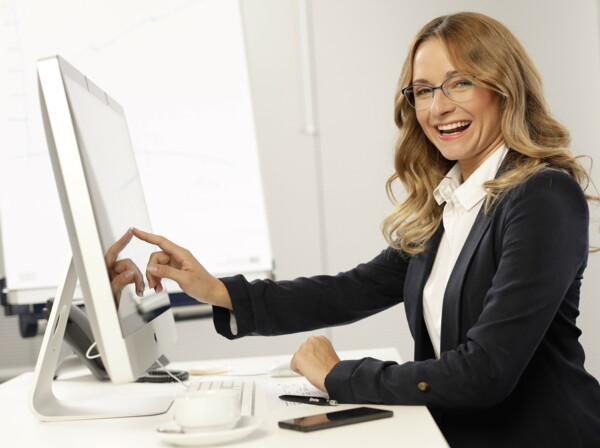 Safety in the office with computer screen glasses. Anyone over 40 years of age usually suffers from near-sighted weakness in the form of presbyopia. The reason for this is the age-related anatomical change of the eye. At this point at the latest, it should be checked whether glasses specifically designed for screen work can help: While privately used reading glasses are manufactured for distances of 40 cm, reading distances of 80 cm and more are required when looking at the PC monitor. Private readers or progressive lenses with an additional value of ≥ 1.25 dioptres reach their performance limit when working at a computer screen. Possibel resulted computer eye strain: eye discomfort, headaches, sore, tired, burning or itchy eyes, difficulty focusing,dry eyes, blured or double vision or increased sensitivity to light.
Energize your eyes! In contrast to privately used visual aids, the screen lenses of ForSec VDU spectacles are individually optimized for your workplace - for an ergonomic head and body posture and maximum visual enjoyment due to the high-end lens and frame design.
Our computer workstation lenses allow a smooth transition between the areas of vision. They consider variable influences such as those of work equipment, colleagues or the number of monitors. The close and middle ranges are particularly important here. They are much larger and therefore more comfortable when used with our VDU spectacle glasses. The central viewing area covers a larger field of view, so that the keyboard and documents on the desk are just as visible as images, text, graphics or tables on the monitor.
It is therefore crucial that monitor screen glasses are configured individually. Custom-fit solutions and comprehensive consulting make a case for ForSec: We know how to analyze work environments and how to incorporate the results into the selection of the perfect eyewear - with high-quality precision optics that are optimized for your individual application with maximum, wide, aberration-free visual range.
Increase your efficiency with ForSec Blue Coat*. Shortwave light - so-called UV light - is the most difficult for the human eye to process. Precisely these light components are increasingly emitted by monitors, mobile phones, laptops and tablet PCs. The ForSec Blue Coat eliminates these light components, producing improved performance and relaxed viewing even after hours of work looking at the screen.

* Surface treatment BlueCoat and Trivex with extra charge.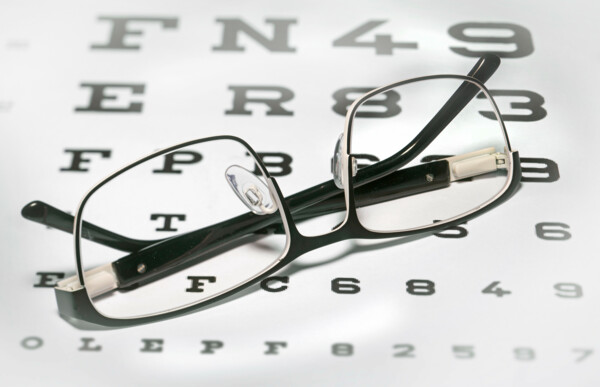 AS INDIVIDUAL AS YOU -
ForSec screen glasses individually adapted to your workplace

Every workplace is individual - just like you. Therefore the precision optics of the ForSec monitor workstation is configured individually for you. For maximum visual enjoyment and ergonomics. Here, too, ForSec relies on high-tech and uses only the latest generation of high-tech indoor progressive lens technology - for your perfect office vision.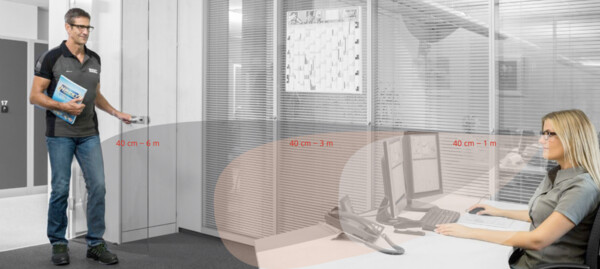 The facts speak for themselves: 0.3% complaint rate confirms that ForSec has the best price-performance ratio for VDU spectacles on the market. For perfect wearing comfort, we offer you feather-light, durable and perfect anatomic adjustable frames made of titanium, stainless steel or acetate.

Our lenses made of lightweight plastic material are, of course, always fully anti-reflective for optimum transparency and surface-hardened for a long life time. We waive standard solutions and manufacture our lenses individually according to your viewing distances at work exclusively with high-end lens designs for perfect visual enjoyment.

ForSec stands for highest wearing comfort and brilliant vision.